My style has always been a little off-kilter, and I love dramatic and humorous touches to an outfit. That's one of the reasons I love Peach Plum Pear. My new friend, Leslie, is the mastermind behind pieces like the Oregon Trail necklace: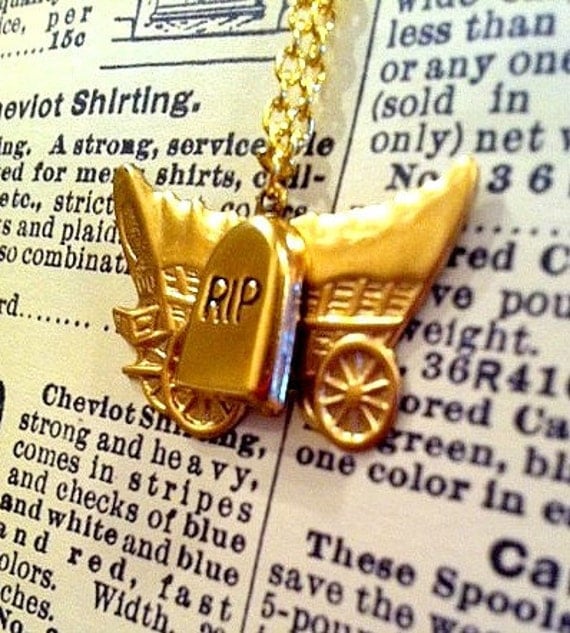 I can't count how many times I died of dysentery on that game …
She also makes some really beautiful jewelry, like this Art Nouveau statement necklace: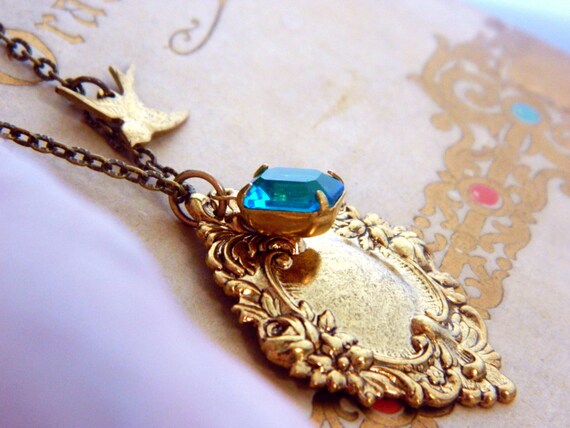 Isn't it lovely?
What's that you say?
You must see more?
Well, you were probably lured in by the title of this post, so I'll get right to it.
Head on over to Coco and Cocoa's blog for her $40 gift card giveaway to Peach Plum Pear!
If you don't win the giveaway, or if you just can't wait for someone else to snag your favorite piece, do not passgo:

Now, for the twist. By entering and sharing the giveaway, you not only get a chance to wear one of Leslie's unique creations, but you'll also be contributing to a great cause. Leslie is a member of the chronic health issue club, who's been diagnosed with Fibromyalgia and other illnesses, as well as adhesions. Adhesions are really painful sheets of scar tissue that can bind nerves and other tissue, in her case, part of her digestive tract, together. Adhesions act like a glue that can cause severe pain, obstruction, and other debilitating symptoms. To learn more about them, go here. Unfortunately, the type of surgery Leslie needs to relieve her of those terrible symptoms is only available in Germany, so she's raising money for the trip and procedure by selling her awesome jewelry. So, please pass the giveaway and shop info along, and help Leslie reach her goal – she has $19,399.00 left to go! (To donate directly to Leslie, visit her Go Fund Me page.)
Gentle hugs,
Chels